Bold is our versatile new stacking chair, designed for extreme strength and durability in challenging environments.
The legs of the ball are joined together, forming a strong and durable sled base that reduces stress on each leg with normal use and helps protect against injuries during extreme treatment.
The chair is made of a reusable polymer that contains strength-enhancing additives, which greatly improves both compressive strength (e.g. a heavy weight) and impact strength (e.g. a striking action), making them perfectly suited for challenging environments.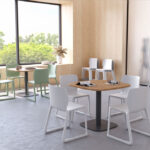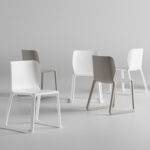 Features:
Versatile stacking chair
Robust sled design for challenging environments
Waterproof and easy to clean
Made from 100% recyclable polypropylene material
Strength and stability tested for non-household use (BS EN 16139:2013 – Level 2)
British registered design No. 6009559
Available with a water-resistant grey seat cushion for extra comfort
Available in Moonwalk Grey, Cool Green and Alpine White
This product is extremely strong, durable and impact resistant at normal operating temperatures. Extreme temperatures can compromise the strength of the product
Please note that waves in the seat are a feature of the manufacturing process of this ultra-strong chair
Contact us for more information