With studies linking high levels of environmental noise with a negative impact on our mental health, we've explored ways to reduce the harmful effects of excessive noise.
Reducing noise levels is of particular benefit to mental health spaces, where verbal communication and architectural sounds (like opening and closing safe doors) can be louder than in other environments.
We designed Hush acoustic tiles to minimize the negative effects of unwanted noise while making sure to minimize ligature risks and maximize the safety of mental health spaces.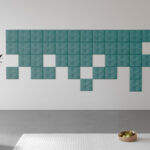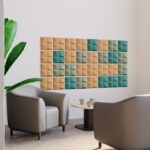 Features
Helps reduce excessive noise by deflecting and absorbing sound waves
Designed to minimize ligature risks and prevent climbing
Self-adhesive installation method (no fastening components) helps to maximize safety
Customizable design allows for endless configurations
Uk registered design no. 6183273
Choose from 7 versatile colours
Customizable design allows for endless configurations
Sold in sets of 8 (of the same color)