We are now working on quarter 3 of our authentic showroom in Hillerød.
The thoughts behind this are, among other things, to keep the furniture we have already exhibited, but show how to redecorate and change the same rooms into a new one.
Thus, the color palette as well as furniture remain the same as quarter 2.
The arrangement is moved in two groups Isolated from the outside world with a virtuoso high back , as well as open in the room with roku asuka 2 man sofa. The sofa chairs make it possible to actively choose between retreating and looking out towards the atrium, or sitting in common. The diversity of the furniture provides different sensory experiences depending on the need.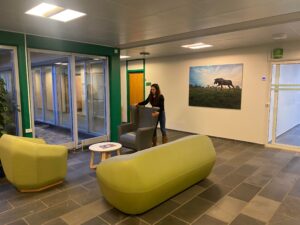 The Linx modular structure is moved into zone 3. The modules illustrate the flexibility of being able to shape the sofa frame as needed and according to
The possibilities of the room Some need to sit together , and others need to retreat and sit by the window. The color palette is neutral. Linen beige as the dominant color and with its basic signal, quiet , gentle and warm in combination with the warm cappuchino brown creates a slightly uplifted, cautious, muted and restrained atmosphere
In zone 2 we have furnished with a 2-seater traditional designed sofa, which is set up by the wall with acoustic panels The dark green color is associated with forest plants and signals peace deep tranquility and silence. Virtuoso high back sofa chairs in line beige contribute to a gentle and warm atmosphere with a contrast of lime green on the Zen recliner as well as shields from the passage aisles.